[series-miru]
Dear Miru,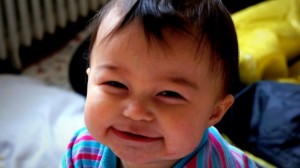 Three days ago, you turned one year old. We had a great time in Luxemburg, together with our couchsurfing hosts and their wonderful children, who gave you a cake with one candle. From there, we traveled to the Morvan in France, where your parents are doing helpx for the first time. It's very quiet here, and we feel good. It has been a good start of the year. Of course, also your father made some New Year's Resolutions.
In 2014, I want to write more, I hope that we find a good place for us to live while doing meaningful things, I hope that spirit I carried in me, the spirit that made me journey the world, will visit us again. I want to think good thoughts, healthy thoughts, and carve them into words.
You are part of the future, Miru. You will walk in this year, and say many words, you will play with other children, dance, swim, learn how to do many daily things. You'll get more teeth and sing, you'll explore that world we put you in.
I don't have much inspiration today, and miss the time when I was writing all through the night, producing words and sentences that tumbled in my mind and appeared effortlessly on the paper in front of me. Perhaps that belongs to the past, and I have become someone else. It's nice that we can become someone else.
People can change, or at least they can change their habits. I put some hope in that. Because when people change a small habit, and another one, they get into the habit of changing their habits, and their horizons could broaden, they could get more audacious, and change for the better. We can get rid of bad habits, or keep engrained habits in check.
I am deleting more words than I write. Perhaps it's because the language has grown foreign to me. My mind is much weaker than I imagine it once was. I don't understand things anymore. I'm quite happy, and confident that we'll make it. If I have new ideas in 2014, I'll write about them. It's nice to write about ideas, in our minds they are like things, but invisible things. I like to describe them because that's how you share them, and you can share them as often as you like.
I stop writing now. Love you.