Rage Against The Water Closet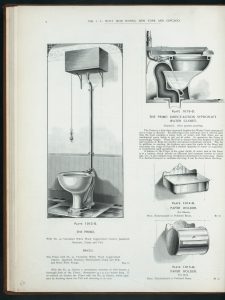 I want to relate an experience I had today and that has exhausted my battery of expletives. It is as banal as it can be: The flushing mechanism of the toilet in my apartment broke. At first, I scoffed at it, remembering that a friend once told me, "if it's yellow let it mellow, if
...
Cursus gedichten verbeteren #22
Welkom terug bij de cursus gedichten verbeteren. De vorige keer behandelden we een gedicht over de zinloosheid van het bestaan (en de zee, was niet de goede zee). Het gedicht van deze aflevering sluit daarop aan, maar wil een hoopvolle toon toevoegen. In het uitgangsgedicht gaat dit effect verloren, dus onze uitdaging vandaag is duidelijk.
...
Whenever you find yourself on the side of the majority, it is time to pause and reflect. - Mark Twain
Een mooie zomer
Omdat ik voelde teveel in herhaling te vallen, heb ik enkele maanden geleden mijn eigen traditie, een maandagcolumn te schrijven, aan de wilgen gehangen. Onder de invloed van een hete zon en zomerse loomheid keerde iets van mijn oorspronkelijke enthousiasme voor het delen van mijn wederwaardigheden terug, al besef ik dat ook dit zelfreferentiële epistel
...
Feminism
She who entirely accepts the fact that one man stays at home shows more signs of feminism than she who loudly proclaims that all women have to go to work.
Cursus gedichten verbeteren #21
Welkom terug bij onze cursus. Ik hoop dat jullie er zin in hebben! Vandaag gaan we met frisse moed een gedrocht te lijf uit de gewraakte serie die de auteur na herhaaldelijke lezing het schaamrood op de kaken dreef. En we gaan er wederom een prachtig gedicht van maken! Komt-ie: laatst confronteerde ik mezelf met het
...
Adorno on Facebook
The notion that every single person considers themselves better in their particular interest than all others, is as long-standing a piece of bourgeois ideology as the overestimation of others as higher than oneself, just because they are the community of all customers. [The source of "likes"] Since the old bourgeois class has abdicated, both lead their afterlife in the Spirit [Geist] of intellectuals, who are at the same time the last enemies of the bourgeois, and the last bourgeois. By allowing themselves to still think at all vis-a-vis the naked reproduction of existence, they behave as the privileged; by leaving things in thought, they declare the nullity of their privilege. - Theodor W. Adorno, quoted by Babette Babich
Cursus gedichten verbeteren #20
Vandaag in de twintigste aflevering van deze cursus een vormvast gedicht over en masker. Voordat we het uitgangsgedrocht bekijken lezen we een paar bekende gedichten over maskers. Ik denk natuurlijk onmiddellijk aan Fernando Pessoa en zijn Engelstalige sonnet VIII. HOW MANY MASKS wear we, and undermasks, Upon our countenance of soul, and when, If for self-sport
...
Een bergwandeling
De berg had zich al enige tijd in mijn geest gemanifesteerd als een plek waar ik mijn gekoesterde vrijheid uit kon leven en toen de junimaand een aanvang nam lonkte hij onweerstaanbaar. Ik liet mezelf met een late bus op een zaterdagavond vervoeren naar het stadje Gurye, naast het nationale park Jirisan, het omvangrijkste in
...
Cursus gedichten verbeteren #19
Welkom terug bij onze cursus gedichten verbeteren. Vandaag nemen we als uitgangspunt een gedicht over vrijheid. Omdat dit onderwerp in de Nederlandse literatuur veelvuldig zijn neerslag heeft gevonden in poëtische reflectie, nemen we ook een kijkje in het werk van andere dichters. Baat het niet, dan schaadt het niet. Bij Gerrit Krol lezen we O, de vreugde
...
There are more things between foreplay and orgasm, fellatio, than dreamt of in your philosophies.
Die höchste Illusion
... und wir sind uns dessen bewusst, dass die Menschen es Illusion nennen. Aber was sonst heisst: eine Welt für sich kreieren? Es ist nur Einbildung, lediglich eine Illusion. Als ob es eine harte Wirklichkeit giebt, wo diese Illusion eingebettet ist, als ob Atome wie Steine sind, und Gedanken oberflächliche Schwingungen. Wir sind es den
...
Reflections On A Rainy Monday
To get the feeling that I have accomplished something today, and in the vein of embracing my imperfection, I begin this piece at 12:50 am. Where I write, in Seoul, Tuesday has already begun. For most of the people who potentially read this, Tuesday is still hours away. For them it is squarely Monday. Before
...
OMG! If only there was enough mind to boggle!
Cursus gedichten verbeteren #18
Vandaag verbeteren we een oud gedicht met een concreet onderwerp: obsessie. Voordat we het gedicht zelf te lijf gaan, lezen we eerst iets over de thematiek, zodat we die ons 'voor de geest' kunnen halen. In de Engelstalige literatuur vinden we obsessies in Moby Dick, Lolita, the Great Gatsby, Ivanhoe, Vanity Fair, Wurthering Heights, Sons and lovers,
...
The single biggest problem in communication is the illusion that it has taken place. - George Bernard Shaw
Cursus gedichten verbeteren #17
Welkom terug zeer gewaardeerde cursisten! Hebben jullie nog suggesties voor het gedicht van de vorige keer? Deze cursus begint op gang te komen, onder de drijvende krachten bevindt zich de eer van de auteur, die, nadat hij om neurologische redenen onbegrijpelijke rommel had geschreven, in duigen lag. Vandaag nemen we een gedicht onder handen over naamgeving. NAAM
...
Cursus gedichten verbeteren #16
Vandaag verbeteren we een stuk 'emigrantenpoëzie' dat ik schreef voor de verzameling Tongriem2 (u kunt deze verzameling downloaden, maar verwacht geen kwaliteit). Het gedicht bevat inspringingen waar we kritisch naar moeten kijken, en heeft een
betekenisboog 
die we gaan repareren (poëzie is soms architectuur) als JE NIET VAN HIER BENT schrijf je wat je ook schrijft emigrantenpoëzie
...
Cursus gedichten verbeteren #15
Welkom terug geachte cursisten. Vandaag bespreken we een eenvoudig gedicht over de ervaring van een dichter in een ver land, waar hij 'thuis blijft bij zijn fantasie', of iets dergelijks. Het uitgangsgedrocht luidt: ik ben vandaag op straat verschenen met een hoofd dat maar niet leeg was opgeluimd door het verre, als een exoot dostojewskide
...
we observe the armistice between our shadows today, we live in a world of small things