[series-miru]
I promised to write about the relentless assault on young children by corporations and their henchmen, the marketeers. I am afraid that they will somehow devise a way to creep into Miru's head before I have detected and neutralized the threat. That they will invade her fragile mind with Trojan horses belching with greasy, sugary, carcinogenic, evil. Paranoia?
"Children have a set of around 100 preferred brands by the time they start school and this increases to some 300-400 by the time they are 10 years old.
52 per cent of 3 year olds, 73 per cent of 4 year olds and 92 per cent of 8-14 year olds ask for particular brands.
A third of 8 to 12 year olds around the world are "bonded to a fashion brand" and 40 per cent are bonded to a car brand. Their brand information is mainly gleaned from television." – Sharon Beder
Yes, the threat is real, because these brands are not harmless. Apart from focusing the child's developing mind on things that are patently unimportant in the face of her becoming a good human being, it wreaks economic havoc on the legion of underpaid factory workers as well as the parents who have to buy all the crap, and it prepares them for a life with an ecological footprint so unsustainable that it would make every sane observer shiver.
Miru will grow up without a television. And when that means that we have to carefully select her peers from a group of equally "radical" parents in order to avoid her being bullied because she doesn't know her hamburger munching cartoon figures, then that's a price I'm willing to pay. When we're at it, I want to be in a position where I can choose the environment grows up in. How many people would retort immediately: That is impossible.
But is it? Perhaps. We won't be able to move to Cuba, North Korea, or any other of the few countries without billboards. All we can do is regroup into communities that de facto ban advertisements by making it clear to the marketeers that they will not be persuaded.
I want to be recognized as a waste of advertising funds.
What could help our cause is, ironically, the relentless data collection of the corporations. If they know "everything" about us (as their arrogant claims portend), they would know that I am not in the least interested in buying any of their products.
"Dear Mr. Choi,

Last year, you didn't buy Rectavex Shaving Cream, and neither did you buy Coloflups or Beggabums.

May we kindly suggest that this year, you abstain from the consumption of Whippers and Stirbicks?

With kind regards,

Your cooperating Corporations"
Miru will develop a taste for this kind of humor, and her laughing will obliterate the need to consume advertised substances of any kind.
I'll personally see to that.
Dear reader, I sign off with recommended viewing:
And reading: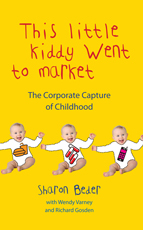 This Little Kiddy Went to Market
The Corporate Capture of Childhood
by Sharon Beder
with Wendy Varney and Richard Gosden