Meditation on Beauty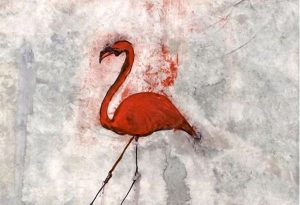 Begin with breathing, as usual. Today we think about beauty. Let us be aware of all the preconceptions and just look at them in our mind. Symmetrical patterns. Some sort of similarity with things we expect to give us pleasure. An evolutionary side effect like a peacock feathers that for the female peacock are not
...
Last scene of all, That ends this strange eventful history, Is second childishness and mere oblivion, Sans teeth, sans eyes, sans taste, sans everything. William Shakespeare
Reading: Green Grapes by Yuk-Sa Lee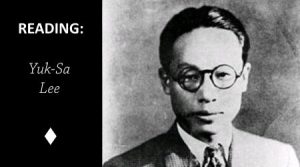 Yi Korean original: 청포도(靑葡萄) - 이육사 내 고장 칠월은 청포도가 익어 가는 시절. 이 마을 전설이 주저리주저리 열리고 먼 데 하늘이 꿈꾸며 알알이 들어와 박혀, 하늘 밑 푸른 바다가 가슴을 열고 흰 돛 단 배가 곱게 밀려서 오면, 내가 바라는 손님은 고달픈 몸으로 청포(靑袍)를 입고 찾아온다고 했으니, 내 그를 맞아 이 포도를 따 먹으면 두
...
La la Laos
Waarom infiltreert een 39-jarige man het Laotische partyhostel "Nana backpackers" aan het begin van het regenseizoen? Wat doet hij temidden van blonde Zweedse meiden die zich van zeven tot negen uur 's avonds volgieten met gratis aangelengde wodka en whisky, alvorens in een schuur te springen op de dreunen van megahits als Havana, Despacito en
...
A street
yesterday the street I live in became new to me I saw blushing windows in its bend and wound-up cars following the curvature the signs on the rooftops read names I had not noticed before behind a rusty gate the glimpse of an overgrown trellis the scent of blossom rushing in from another season in
...
Reading: So Little Depends by Miguel-Manso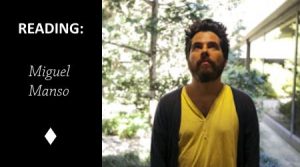 website of Poetry International.
So Little Depends
you prefer the corner, the hidden place the foliage, the shadow, the room, this sack of wheat: textual gold spread out on the old secretaire of the real outside the blaze of the wood the quick glazing of the fields here inside, less leeway – another panorama: simply
...
Reading: Singidunum by Nina Stojkovic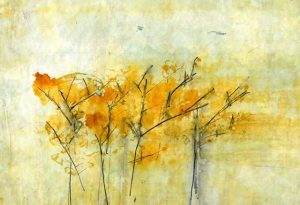 Appeal to the electric god
Connect my head to your terminal with a fiber optic cable I'll waive my right to an eternity of not-me Have you noticed I am blushing? What can you infer from that? That I am excited, good. So you know everything about me. How, like most people, I doubly failed at Oedipus How I enjoy
...
Meditation on friendship
Close your eyes. Breathe calmly. You sit here alone, master of your own thoughts. Imagine I am talking to you. I want to know what friendship means. Quickly, construct a differentiation. Which opposite op 'friend' have you found? Mere acquaintance? Or: enemy? But what can we say about a thing of which we cannot determine the
...
The Good Life
Mark likes to play computer games. In real life he fixes televisions. There are solder spots on his hands, when he sends his armies to the front lines. Paul, who measures buildings before they are inhabited, enjoys spinning a lifetime of infinities in his mind. Oscar, the media guy, prefers sitting in the sun. Justine
...
Uitwaaien in Laos
Een van de voordelen van het freelancerbestaan is de mogelijkheid om spontaner dan een werknemer even naar de tropen te gaan. Toen ik een maand geleden mijn ticket naar Laos boekte had ik last van kiespijn en dacht ik: die ga ik in de jungle wegmediteren in een hangmat. Hier aangekomen was de kiespijn verdwenen
...
Pissing with Ginsberg
I still piss a powerful stream the color of the sun a sizzling fountain that sounds like spring has arrived in my toilet bowl. bowl! bowl!
Sneeuwpoppop
Ik maak Miru graag met voorbeelden uit haar eigen belevingswereld vertrouwd met abstracte concepten. Toen ze van een vriendinnetje een knuffel kreeg van een sneeuwpop, zag ik mijn kans schoon. "Hé Miru", zei ik, "dat is een sneeuwpoppop." -"Een wat?" "Het is geen sneeuwpop, toch? Want die is van sneeuw." -"Oh ja." "Dan is het
...
Small big data
Today's hype is Big Data. As with other hypes, such as 'sharing economy', 'cloud', 'blockchain', the hype is simultaneously promoted as a commercial instrument that is indispensable for companies and as a pervasive phenomenon that redefines the fabric of society. Every big corporation sits on a heap of big data about their customers. Statistical analysis
...
But how can art keep us alive when it cannot kill us?
Good riddance: Arnons voetnoten
Vriend en vijand zijn het erover eens: Arnon voorpagina van de Volkskrant is een heuglijk feit. Als wat hij achterlaat een zwart gat is, ben ik met liefde nihilist. Dat de tweeëneenhalf duizend schrijfsels die hij de afgelopen jaren produceerde taalkundig om te janken zo belabberd en intellectueel onhoudbaar zijn, is alom bekend. Feilloos vermochten
...
Free speech is the whole thing, the whole ball game. Free speech is life itself. - Salman Rushdie
"Among those whom I like or admire, I can find no common denominator, but among those whom I love, I can: All of them make me laugh." — W.H. Auden